If you've read the Princess Dragon horse party rhyme you might be wondering where you can get some horse party supplies.
Horse Cake Mold
It wouldn't be a horse party without a great horse cake. If you have planned ahead at least a month you can order a silicone horse cake mold from Aliexpress for less than $10.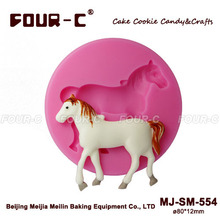 AliExpress.com Product – Horse fondant cake design mold,silicone gumpaste art mold,cake model
You could also use a carousel cake mold, which is only about $7.
AliExpress.com Product – M0630 Carrousel Merry-go-round horse fondant cake molds soap chocolate mould for the kitchen baking cake tool
If the party date is just around the corner, you may have to improvise. Try putting chocolate frosting on some animal crackers. You can even make a fence out of pretzels.