It's our Princesses' birthday party, Yey! Yey! Yey!
Let's celebrate with horses, Neigh! Neigh! Neigh!
Watch them as they gallop and trot.
Horses are so nice and soft.
When the ponies need a break,
we'll have ice cream and horse cake.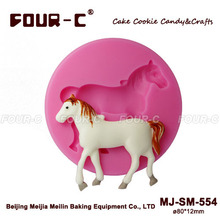 Then we'll head back to the stables,
the horses have nicely brushed tails.
Feed them, pet them, ride them too.
Hi there horsey, I love you!
Get Princess Dragon's horse birthday party supplies and ideas!